If you're looking to meet someone who radiates positive energy and intelligence, look no further than Pawzz. This up-and-coming Nigerian pop star is a joy to talk to. Despite having just finished a lengthy recording session the night before, Pawzz was calm and collected during our Google Meet call. He even politely requested to turn off his camera, revealing a rare humility and consideration not often seen in artists whose lives have been transformed by signing with a major record label such as Freeme Music, based in Lagos, Nigeria.
David Tokuma Dekor, a 20-year-old Nigerian hailing from Port Harcourt, is known to his loved ones as a talented musician with big aspirations. But in the world of pop culture, he is better known by his stage name, Pawzz. This rising star has captivated fans with his captivating melodies, genuine spirit, and dynamic stage presence, all while harboring a bold ambition to make his mark on the global music scene and inspire future generations to come.
Generation Z, also known as 'Gen-Z,' is widely regarded as a very fast and more tethered generation than the previous. Critics of this generation make the easy mistake of misinterpreting their audacity as unnecessarily abrasive and rebellious, but when viewed from a birds-eye perspective, this group of 'deviants' is a group of outspoken, passionate, talented, and creative people.
The descriptions above best describe Pawzz, a talented twenty-year-old singer and songwriter who grew up in Nigeria's bustling city of Port Harcourt.
The fast-rising act is currently having a great time, as his recently released extended play titled 'Prezz Play' is receiving positive feedback from music critics and listeners alike.
During this Google Meet interview, Pawzz showcased his punctuality, amiability, and confidence, greeting the interviewer with an emphatic tone and engaging in a genuine conversation about his craft, mental health, and human rights, among other topics. He also opened up about his brave decision to leave home at a young age to pursue his passion for music. This interview offers a fascinating insight into the mind of a talented and driven young artist who represents the best of his generation.
The Name Theory
In the interview, I asked Pawzz to describe the character of an average Port Harcourt resident. He laughed briefly before responding, stating that the popular misconception about Port Harcourt residents being aggressive is not entirely true. He described the typical resident as street-smart and hardworking, with an amiable disposition but a willingness to reciprocate energy when necessary. In his words, "So, there is a popular misconception about Port Harcourt people being aggressive, but that isn't true. The typical Port- Harcourt resident is street-smart and hardworking. We are very amiable people, but at the same time, we don't take nonsense, and we tend to reciprocate energy a lot."
Furthermore, I inquired, "Would you say your environment has had a ripple effect on your sound?" calmly, he replies, "Of course, it has. The passion I put into my songs stems from some of the experiences I had while growing up."
Before the interview, I had a theory about why Pawzz had chosen his stage name, which sounded like a derivative of the word 'Paws.' I was pleased when he confirmed my theory, stating that he had chosen the name because it resonated with his vision of leaving a lasting imprint. "I often get this question and tell people the same thing. I chose the name because it resonates with my vision: to me, Pawzz is all about leaving a lasting imprint," he said.
I chose the name because it resonates with my vision: to me, Pawzz is all about leaving a lasting imprint

Pawzz, 2023.
Prezz Play
Curious, I asked him what constituted a productive day in his world, and he replied: "I am always on the go; there is no day that I am not being productive."
He described himself as someone who is constantly hustling, creating content, working in the studio, and grinding. He emphasized that there are no days off for him, and he left home at the age of sixteen because he always knew what he wanted for his life. Despite knowing that it wouldn't be easy, he took that bold step, and now that he has come this far, there is no way Pawzz is taking his foot off the clutch. His words reflect his dedication and commitment to his craft and goals.
Talking about the biggest highlight his extended play 'Prezz Play' has gotten since its release, he said, "So a week after my project release, I got a message from one of my guys; he told me a song from my EP was being featured on an Apple Music playlist, and this was organic; the love had me feeling grateful. However, the biggest would have to be when my song aired on Big Brother Africa for the first time; to me, that was surreal."
The Pride
Upon listening to the five-track EP for the first time, I found myself drawn to certain songs while others didn't quite capture my attention. Curious about the artist's own favorite track from the 'Prezz Play' EP, I asked the singer who replied, "I love all the songs on the project; It's hard to pick a favourite. I don't have a favourite."
During our conversation, I brought up a recent tweet from Pawzz claiming that his EP was the best to come out in a decade, and asked if he were worried about appearing too confident. The singer laughed and replied, "Oh no, I think quite the contrary, but then again, you are never in control of what people think, so I don't foster those thoughts. I believe you are your best hypeman. If you believe in your art, you should be the one screaming the loudest."
As I researched the rising star, I couldn't help but notice his unique fashion sense. When asked if his approach was intentional or fueled by vibes, Pawzz shared that it was intentional, drawing inspiration from fashion-forward icons like Jaden Smith and Bad Bunny. "They make a statement with their high-fashion sense. I want people to always see me and get intrigued," the singer explained.
During our conversation, I learned that the artist's fan base is referred to as 'The Pride,' which piqued my curiosity about his stance on human rights, particularly in regard to sexual orientation and gender identity within the LGBTQ community. When I asked if he held a liberal or conservative view on the matter, the artist responded with a strong statement: "Everyone has the right to be whoever they want to be without the constraints of society. That's what 'The Pride' is all about, and that's what my brand strongly promotes – being proud of who you are and not afraid to express yourself."
Everyone has the right to be whoever they want to be without the constraints of society. That's what 'The Pride' is all about…

Pawzz, 2023.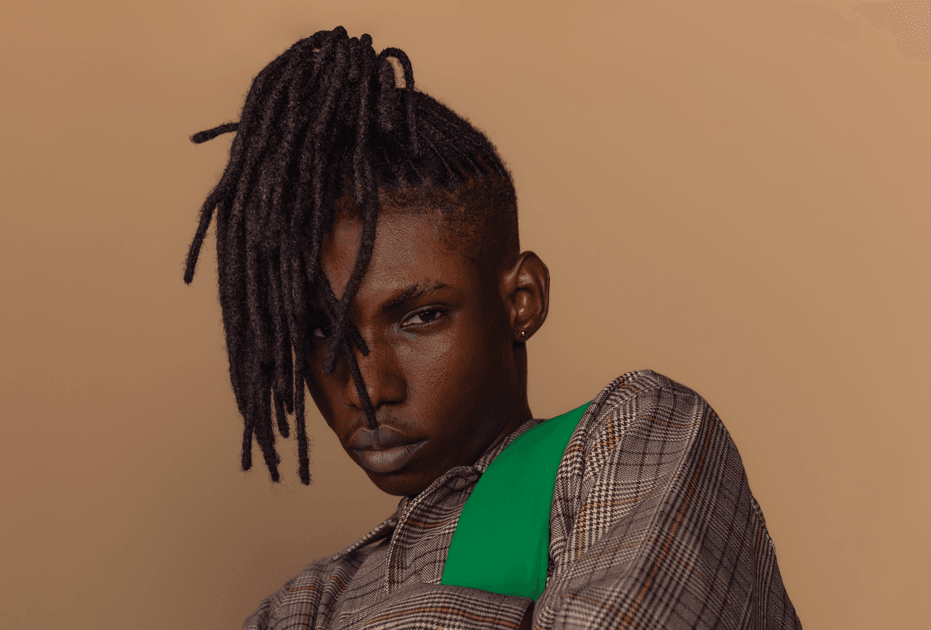 Mental Health
Moving on, I asked,  "Apparently, ageism is a thing in the music industry, and as a young creative, have you ever been in a situation where you felt your creative ideas were shunned by an older person who felt your age was a limiting factor to what you had to bring to the table, creatively?"
"Nah, my crew knows what I am all about; they don't limit me, and they respect my ideas and vice versa. Frankly, I have never encountered such," he answered.
We also discussed the trend of public figures speaking out about their mental health, and whether social media has played a role in encouraging this openness. The artist believes that social media has helped to dispel the myth that celebrities have it all together and allowed for more vulnerability among public figures. When asked about his own therapy methods, the artist cited music as their source of strength during difficult times.
The Future
When asked what his fans can expect from him in the future, the artist replied with a tantalizing "a lot" without going into specifics. He also shared his aspirations to collaborate with Rema, Burna Boy, and Omah Lay, citing his respect for their crafts.
As for advice to fellow creatives, the artist emphasized the importance of being proud of oneself and not allowing anyone to discourage them. It's clear that this rising star is dedicated to his craft and has big plans for the future.