The medium of entertainment has expanded and evolved over the years as the social media space and digital innovations influence the content and the interest of the people. Film as means of entertainment has been with Africans and created a bond within the viewership. In order to retain this togetherness sponsored by TV series that are widely accepted in the African households, here are nostalgic remembrances of some African TV series:
1. Papa Ajasco – (Nigeria) 1996
Papa Ajasco and Company formerly known as The Ajasco Family is a Nigerian sitcom created by Wale Adenuga in 1996.
The Ajasco family and their humorous takes on pressing societal concerns are at the centre of the narrative. Papa Ajasco, the philandering father, his patient wife Mama Ajasco, their unruly son Bobo Ajasco, the neighbourhood womanizer Boy Alinco, the opportunistic gold-digger Miss Pepeiye, and the uneducated up-to-no-good Pa James and Pa Jimoh are the key characters.
At its height, Papa Ajasco, an African TV series was widely regarded as Nigeria's most popular comedy programme. It was broadcast each week in twelve African nations.
2. Rhythm City – (South Africa) 2007
The South African musical drama series Rhythm City is an African TV series created by Quizzical Pictures. It was an e.tv original production that debuted on the network on July 9, 2007. The series premiered on e.tv Ghana and ran through July 16th, 2021. The plot centres on the struggles faced by those looking to enter into the music business.
Following 13 seasons of production, Rhythm City starred Mduduzi Mabaso, Mpho Molepo, Setlhabi Taunyane, Tebogo Khalo, Mapula Mafole, Jesse Suntele, Ishmael Songo, Itumeleng Bokaba, Slindile Nodangala, Kamogelo Molatlhoe, Tshiamo Molobi, Oros Mampofu, Linda Sokhulu, Nompilo Gwala, Patronella Tshuma and Mcedisi Shabangu to mention but few.
3. Tinsel – (Nigeria) 2008
With 15 seasons and 3500 episodes, Tinsel had been dubbed the most successful television drama on Nigerian television in recent times starring Victor Olaotan, Funlola Aofiyebi-Raimi, Ireti Doyle, Damilola Adegbite, Chris Attoh, Udoka Oyeka, Osas Ighodaro, Gbenro Ajibade, Linda Ejiofor, Bimbo Manuel, Oghenekaro Itene, Matilda Obaseki, and Tomi Odunsi among others.
Two competing film production companies are the subject of the tale told in Tinsel. They engage in bitter competition on the set as well as in business meetings. It is a story filled with conflict, love, betrayal, and triumph. It was awarded the longest-running TV series in Africa at the 2022 Africa Magic Viewers' Choice Awards.
4. MTV Shuga – (South Africa & Nigeria) 2009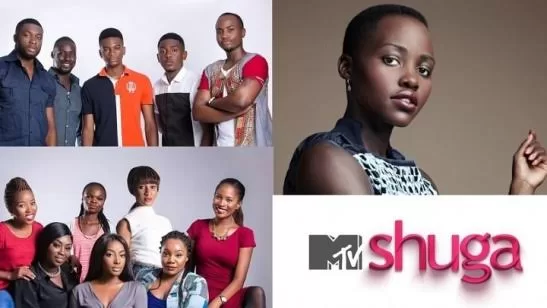 Shuga, also referred to as MTV Shuga, debuted in November 2009 on MTV Base as a part of the "MTV Staying Alive Ignite!" campaign.
In collaboration with The MTV Staying Alive Foundation, PEPFAR, the Partnership for an HIV-Free Generation (HFG), and the Government of Kenya, MTV Networks Africa and the first two seasons of the show were commissioned.
Part of the series theme is focused on tolerance and responsible sexual behaviour. teaches young people about issues like gender-based violence, teen pregnancy, safe sex, maternal and child health, family planning, and HIV/AIDS.
After the series gained popularity, it was broadcast in 40 different African nations before being broadcast abroad on more than 70 television channels. In May 2010, it won a Gold prize at the World Media Festival in Hamburg, Germany. Older generations criticized it as well since it had certain scenes with graphic sexual themes.
It starred Lupita Nyong'o, Tiwa Savage, Okezie Morro, Maria Okanrende, Dorcas Shola Fapson, Nick Mutuma, Avril Nyambura, Nancy Karanja, Samke Makhoba, Richard Mofe Damijo, Ruby Akubueze, Osas Ighodaro, Timini Egbuson, and Thuso Mbedu to mention few.
5. Mali – (Kenya) 2011
Mali also known as Mali: United by Blood: Divided by Greed premiered on October 12, 2011, on NTV, Kenya, is another African TV series and was broadcast in Uganda starting in 2012.
The lifestyles of an incredibly wealthy family are the focus of Mali, which is also troubled by deeper, more covert public problems. The family's chauvinist polygamous patriarch rules his two households like a military facility.
The family members are all involved in exuberant tales of love, money, power, self-gain, sensuality, and accomplishment despite having varied personalities and cultural, social, and economic backgrounds.
It featured George Ohawa, Mary Gacheri, Mkamzee Mwatela, Carolyne Midimo, Mumbi Maina, Brenda Wairimu, Kevin Samuel, Daniel Peter Weke, Abel Amunga as Mwambu, Tony Mwangi, Conrad Makeni, Gerald Langiri, and David Gitika among others.
6. Kona – (Kenya) 2013
On August 26, 2013, Africa Magic Channel debuted Kona starring Muthoni Gathecha, Brenda Wairimu, Abubakar Mwenda, Lwanda Jawar, and Nini Wacera.
The plot centres on the Oyange family's imperfect life and their problems, which are made more difficult by love and hatred. Richard Oyage, a business magnate, leaves behind a wife, three daughters, and a son when he dies in a horrific vehicle accident. Later, the first daughter takes over her father's business, but she must navigate leading in a patriarchal culture.
7. An African City – (Ghana) 2014
On March 2nd, 2014, An African City a popular African TV series launched. On January 24, 2016, the second season began. Five unmarried young African-American women who have recently relocated to Accra, Ghana, after spending the majority of their life abroad, are the subjects of the television series. 
The show also explores how each lady manages her private affairs, her fresh start in Ghana as a "returnee," and her success as a university graduate. Each episode covers a wide range of topics, including skin whitening, power outages, condom use, self-gratification, and sexual abstinence.
8. Tuko Macho – (Kenya) 2016
A Kenyan online series called Tuko Macho debuted in 2016. The series, which dramatizes Kenya's problems with crime and vigilante justice, is focused on a vigilante gang that kidnaps criminals in Nairobi and lets viewers decide whether to execute or release them.
The cast includes Kelly Gichohi, Ian Thiong'o, Timothy King'oo, Lowry Odhiambo, Paul Ogola, Millicent Ogutu, Njambi Koikai, and Ibrahim Muchemi.