Now, let's have the Unseen movie review! In classifying 21st-century film and its progressive state, certain movies are unparalleled, simply in a class of their own; the Unseen series easily fits this placement. Unseen is a Netflix suspense-packed, gritty, tense, crime episodic movie. It takes the viewers to a point, leaving the viewers to make assumptions and fix the puzzle. Each episode leads to the question, 'What's going to happen next?'. The South African movie, created by Travis Taute, Daryne Joshua, and Gambit Films, seems spotless, creating loads of appraisal rather than criticism; such a grand height of story, cinematic production, and delivery. Unseen indeed 'delivered'!
Now, let's dive deep into the Unseen movie review;
Plot
Based on the Turkish Netflix series Fatma, Unseen tours the story of Zenzi Mwale, her search for her husband, Max, caught in a web of discoveries that entangled her decisions between vengeance under the guise of a disreputable job or being used as a tool in the underworld of crime lords.
Unseen starts with Zenzi's interrogation by the police, followed by a tour using flashbacks. A large percentage of the movie was narrated through flashbacks. Zenzi is a cleaner working for Raymond, a local crime lord who answers to the Syndicate, a higher authority in illegal business and criminal organizations.
Max is to return from prison after intentionally serving a sentence for a crime he didn't commit but with a promise of a better living situation for his family from the Syndicate — a promise that went down the drain. Zenzi commits herself to investigating her husband's disappearance, which is subsequently added to her to-do list, investigating her son's killer, and avenging her son, Esulu.
In the process, she commits a series of murders, using her job description as a guise; being stealthy coupled with the ability to clean out evidence and withhold information till her mission is accomplished. Blackmailed by Raymond, sexually harassed by Erico, sought after by the Syndicate and police, killing the kingpin, Lufono's respect and friendly help, escape to Caledon, Naledi's eventual sisterly intervention, discovering her husband is not dead after all, Max's eventual death, the vehement avenge of Esulu, and the cliff scene; in all of these short line, descriptions lay interesting, tensed, and gritty actions.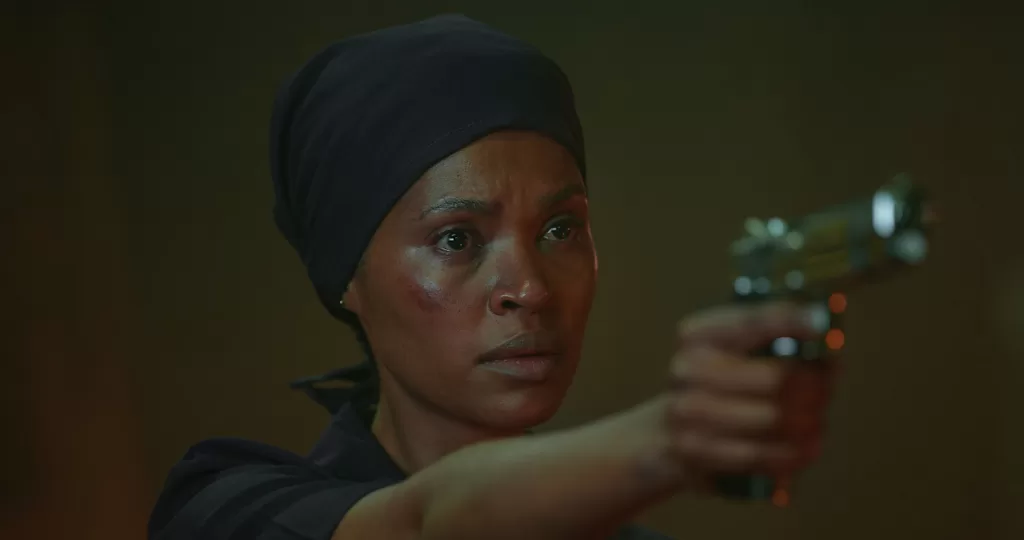 Cast/Acting
The actors and actresses definitely 'delivered' (Nigerian parlance for an excellent job done). Starting from the lead character, Gail Mabalene (Zenzi), to Brendon Daniels (Raymond), to Mothusi Magano (Lufuno), to Dineo Langa (Naledi), to Vuyo Dabula (Max), to Rapulana Seiphemo (Blessing), and many more, they all showcase their expertise, bring the viewers into the action, suturing reality and fiction into undeniable oneness.
Cinematography
Storytelling through the lens of cameras has been better over the decade, and Unseen did not 'carry last' (Nigerian parlance for not slacking). The cinematography also added to the storytelling.
Language and Aesthetics
The aesthetics are undeniably real, especially in the abattoir and murder scenes. The mixture of the English language and the South African local language identifies or unites the movie with indigenous/African viewers. This is incredibly well done when combined with acting.
Setting
The settings depict an accurate representation of the scenery of the story being presented, which couldn't have been any better.
Summarily, Unseen as implied by the meaning of the word 'unseen', capitalizes on the general disregard for sanitary jobs and the irony of a character who is supposed to be a cleaner getting her hands dirty with multiple murders. Has the law really caught up with her? To whom belongs the victory, the government officials who launder public funds through criminal activities or Zenzi? What's more? Let's see what the next season has in store!

Summary
The South African movie, created by Travis Taute, Daryne Joshua, and Gambit Films, seems spotless, creating loads of appraisal rather than criticism. Unseen indeed 'delivered'! 
WATCH 'UNSEEN' ON NETFLIX