The Met Gala 2023 event was held on May 1st, 2023, at the Metropolitan Museum of Art in New York City. The theme for this year's event was "In America: A Lexicon of Fashion," and it featured a star-studded guest list, including several Africans or people of African descent who turned heads with their stunning outfits.
Here's a rundown of what they wore:
Tems
Nigerian singer Tems turned heads at the Met Gala 2023 with her fashion-forward outfit. She made a fashion statement with a custom Rober Wun dress, which featured a black corset-like top and a flowing regal white finish at the bottom. To complete the look, she wore elbow-length gloves, adding a touch of elegance and sophistication to the ensemble. Tems' outfit was a perfect balance of edgy and classic, showcasing her unique sense of style and love for experimenting with fashion.
Burna Boy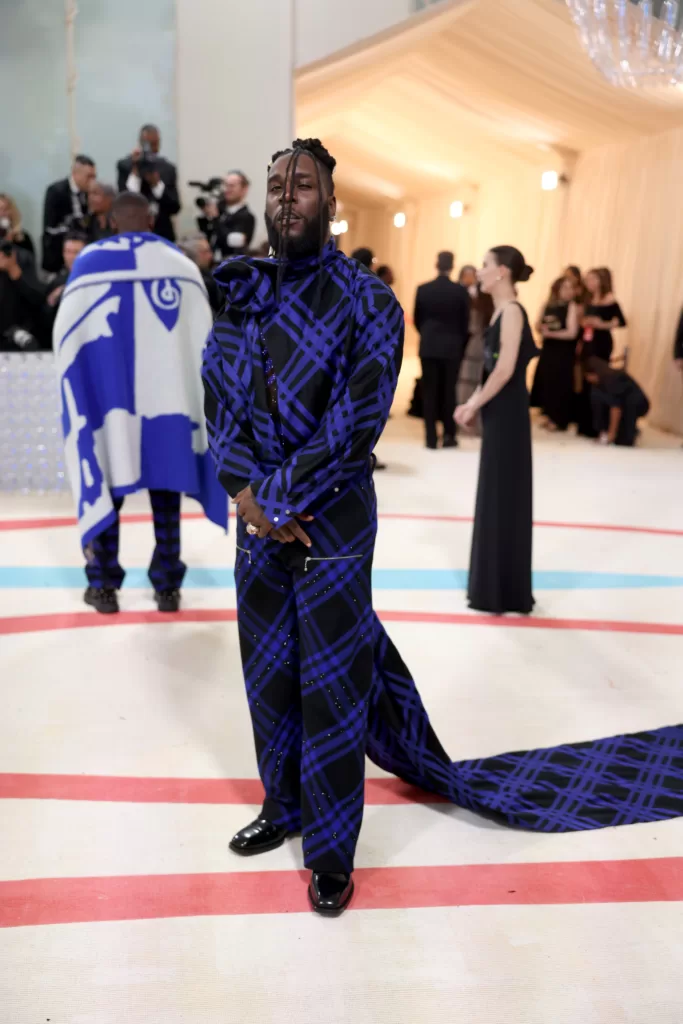 Nigerian Afrofusion artist Burna Boy made a stylish appearance at the Met Gala 2023, wearing a matching black and blue slightly checkered outfit. He completed the look with a generous cape-like extension of the same material flowing behind him, adding a regal touch to his ensemble. The outfit was a bold and unique choice, showcasing Burna Boy's confidence and willingness to experiment with fashion.
Imaan Hammam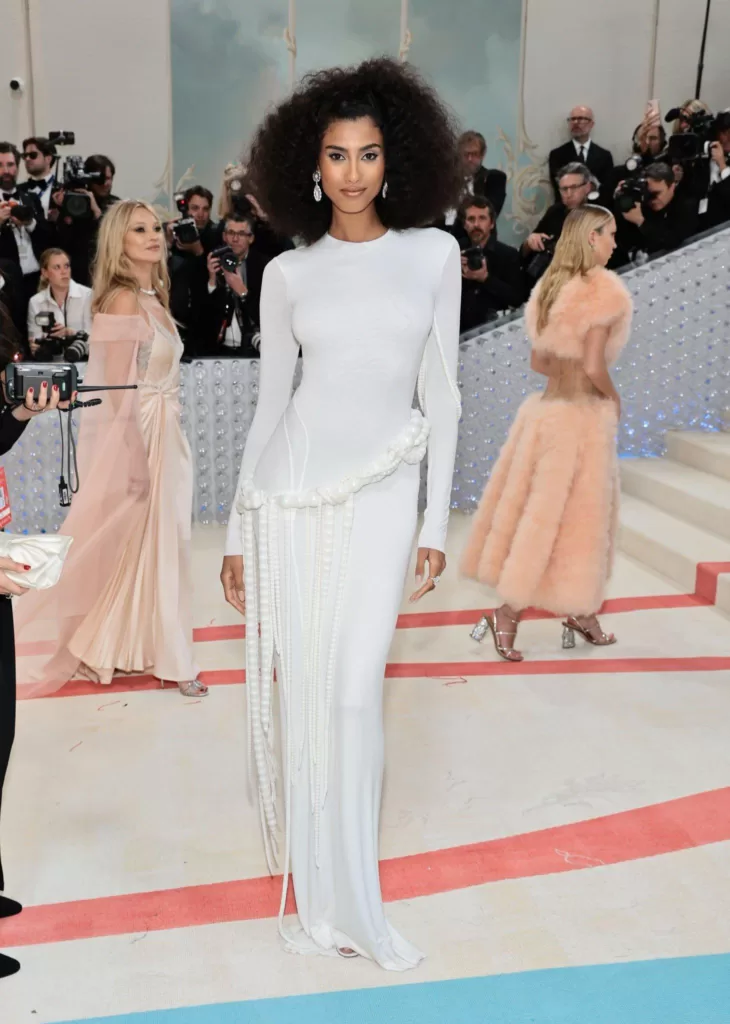 Sudanese-Egyptian model, Imaan Hammam, made a bold statement on the Met Gala 2023 red carpet with her bright pink, floor-length gown. The gown featured an asymmetric neckline and was adorned with silver sequins and a thigh-high slit, showcasing her long legs. She paired the outfit with silver strappy sandals and kept her makeup and jewelry minimal, letting the dress speak for itself.
Anok Yai
South Sudanese model, Anok Yai, turned heads on the Met Gala 2023 red carpet with her all-black ensemble, which included a striking gown featuring sheer sleeves and a feathered train. She paired the outfit with black stilettos and dramatic, smokey makeup, making a dramatic and unforgettable statement.
Trevor Noah
South African comedian Trevor Noah, a regular attendee of the Met Gala, made a statement with his head-to-toe ensemble by American designer Thom Browne, known for challenging and modernizing today's uniform. Noah's uniformed look was elevated with a fresh set of cornrows, adding a touch of personal style to his ensemble. The outfit was a perfect balance of classic and contemporary, showcasing Noah's ability to blend traditional and modern elements to create a unique and stylish look.
Naomi Campbell
Supermodel Naomi Campbell made a stunning entrance at the Met Gala 2023, where guests are honoring the exhibit dedicated to Karl Lagerfeld. She wore a molten pink gown from Chanel's spring/summer 2010 couture collection, featuring luscious pink fabric draped over one shoulder and a shimmering silver sequin bodice with matching silver trim. To complete the look, she added various silver arm cuffs and metallic strappy heels, adding more silver accents to her ensemble. Campbell's outfit was a true homage to Lagerfeld's legacy, showcasing her impeccable taste in fashion and her ability to make any ensemble look effortlessly chic.
Adut Akech
South Sudanese-Australian model Adut Akech turned heads at the Met Gala 2023 in a stunning tiered tulle monochromatic gown by Carolina Herrera, complete with a train. The fitted strapless bodice was adorned with dazzling pearl and diamond embellishments, adding a touch of sparkle to the ensemble. Her hair was styled in a short blunt bob, further highlighting the elegance of the dress. Akech accessorized with diamond rings and earrings, and opted for minimal makeup with a dark matte lip, adding a touch of drama to her look. The model was accompanied by Carolina Herrera creative director Wes Gordon, who helped bring her stunning ensemble to life.
Stormzy
British-Ghanaian rapper Stormzy brought a bold and stylish twist to the Met Gala 2023, opting for a rose print jacquard suit with a black turtleneck underneath. The suit's intricate design and pattern complemented his confident and commanding presence on the red carpet. Stormzy elevated the look with a deep black turtleneck underneath, adding an extra layer of sophistication to the ensemble. The combination of bold prints and classic black made for a daring yet refined look, perfectly capturing the rapper's signature style.
Skepta
Nigerian-British rapper Skepta brought a touch of high fashion to the Met Gala 2023 in a striking Burberry suit with a unique pattern. The pattern on his outfit was different from the one worn by fellow musician Kid Cudi, but both were made by Burberry. Skepta paired his suit with a duvet and spiky boots, adding a touch of edge to the ensemble. The suit's bold pattern and impeccable tailoring showcased Skepta's individuality and unique sense of style, making him stand out among the crowd at the star-studded event.
Burna Boy and Tems step out for Met Gala 2023 #MetGala pic.twitter.com/jmXIPhX1FN

— African Folder (@africanfolder) May 2, 2023
In summary, the Africans or people of African descent who attended the Met Gala 2023 event showcased a diverse range of styles and cultural influences, bringing their unique perspectives to the red carpet. From traditional African prints to modern interpretations of African-inspired elements, these celebrities proved that African fashion and style are worth paying attention to. It was inspiring to see so many African celebrities embracing their heritage and using the platform of the Met Gala to showcase their unique fashion perspectives, while also making bold cultural statements.