Asoebi, the timeless emblem of African culture and fashion, has continued to captivate fashion enthusiasts around the world. As we step into 2023, it's the perfect moment for fashion-savvy ladies to dive into the ever-evolving world of Asoebi. In this comprehensive guide, we're thrilled to unveil a meticulously curated collection of the 25 latest Asoebi styles for ladies 2023. Whether you're preparing for a wedding, a traditional gathering, or any special occasion, these styles will inspire you and empower you to make a memorable fashion statement.
Asoebi Styles: A Heritage of Culture and Creativity
Asoebi styles are more than just garments; they're the living embodiment of African heritage, artistry, and tradition. Each Asoebi ensemble narrates a unique story, blending the richness of culture with contemporary creativity. Wearing an Asoebi outfit isn't merely about looking good; it's about celebrating your culture and expressing your individuality through the art of fashion.
The artistic flair embedded in the Asoebi style is nothing short of remarkable. Every intricate detail, from the choice of fabrics to the meticulously crafted designs, serves as a testament to the skill and creativity of African artisans. These are not just garments; they are living artworks that express the vivid imagination and craftsmanship of the individuals who create them. It is through these garments that traditional patterns and motifs are revived, reinvented, and brought to life in contemporary fashion, ensuring that the beauty of African culture endures.
In essence, Asoebi styles are a heritage, a living and evolving testament to the vibrancy of African culture and the limitless creativity of its people. They are a powerful reminder that fashion is not just about looking good but also about celebrating one's roots, connecting with one's heritage, and expressing one's unique identity through the timeless art of clothing.
The Latest Asoebi Styles For Ladies 2023
2023 brings a fresh wave of Asoebi fashion trends, showcasing the perfect harmony between tradition and modernity. Here are the top 25 Latest Asoebi styles for ladies that are set to dazzle the fashion scene this year:
1. Classic Ankara Elegance
Ankara styles, characterised by their bold prints and vibrant colours, will continue to reign supreme in 2023. From graceful gowns that accentuate your curves to stylish jumpsuits that radiate modernity, classic Ankara Asoebi styles offer an array of choices for various occasions.
2. Exquisite Lace Creations
Lace, with its timeless allure, never ceases to amaze. In 2023, Asoebi lace styles will come to life with intricate designs, off-shoulder cuts, and elegant sleeves. These delicate details add a touch of sophistication to your ensemble, making them perfect for formal gatherings and traditional ceremonies.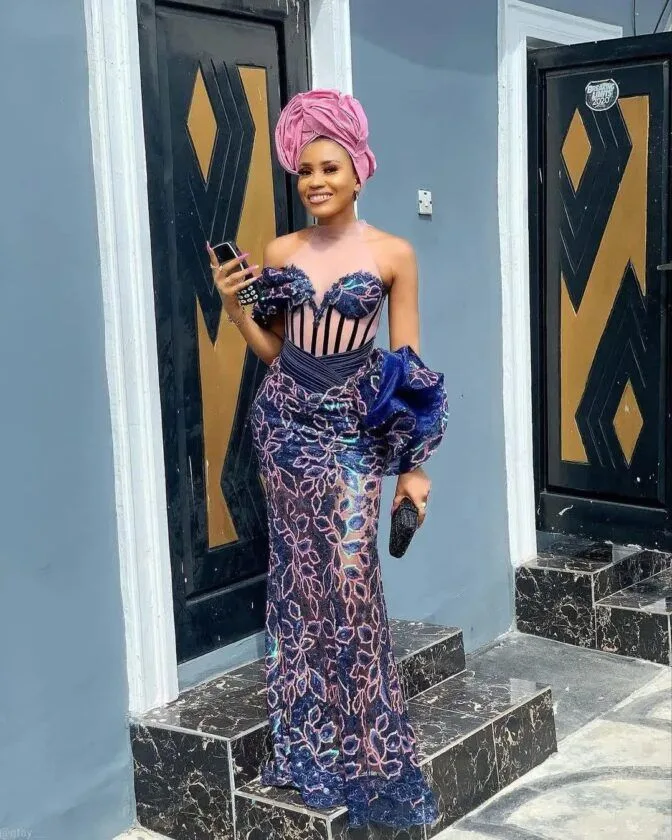 3. Contemporary Asoebi Gowns
Asoebi gowns are taking center stage with modern twists in 2023. Look out for asymmetrical hems that inject drama into your look, unique sleeve designs that redefine elegance, and innovative gown structures that make a lasting impression.
4. Asoebi Styles with Gele
No Asoebi ensemble is complete without the iconic Gele. Beyond being an accessory, the Gele is a work of art that elevates your overall appearance, giving you an air of regal sophistication.
5. Diverse Colour Palettes
The colour palette for Asoebi styles has expanded in 2023, offering an extensive range of colour combinations. From vibrant and lively hues to soft and subtle pastels, you can choose a palette that resonates with your personality and the tone of the event.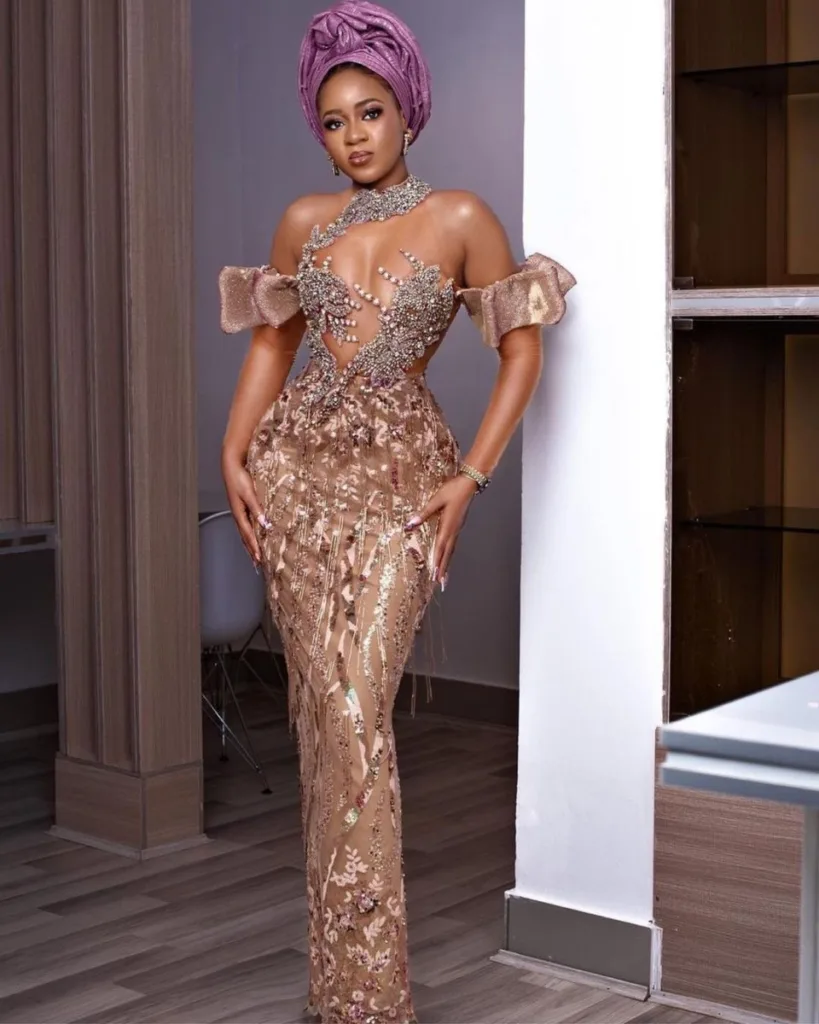 Finding Your Perfect Asoebi Style
Selecting the ideal Asoebi style is an exciting journey that should align with your body type, skin tone, and the nature of the event. Above all, choose an outfit that exudes confidence and empowers you to feel your absolute best, for confidence is the ultimate accessory.
As 2023 unfolds, the allure of Asoebi styles for ladies continues to shine brightly. Whether you have a deep appreciation for tradition or a penchant for contemporary designs, rest assured, there's a perfect Asoebi style awaiting you.