Once upon a time, the name 1da Banton didn't ring with music vibes. Surprisingly, this cool cat, also known as Godson Ominibie Epelle, dreamed of dominating the football field instead. But hey, fate had other ideas in store!
In a twist of destiny, tragedy struck our hero when his beloved mother passed away in 2008. Losing his biggest cheerleader left a void in his heart, and it dealt a mighty blow to his football passion.
Fast forward seven years, and guess what? 1da Banton decided to turn his pain into something extraordinary. He decided to ditch those soccer boots and embrace a whole new world—one filled with melodies and beats. Yes, he picked up a microphone and never looked back!
Can you imagine the incredible journey this Port Harcourt-born singer embarked upon? From chasing football glory to chasing musical stardom, his story is a testament to the power of reinvention and following your true calling.
So, grab your popcorn, folks, and let's witness the epic transformation of 1da Banton—the artist who traded his football dreams for a mic and became a legend in the making!
I want to make music that will inspire people and help them live happily.

1da Banton, 2023.
Ever since he made the bold decision back in 2015 to dive headfirst into the world of music, there has been no stopping him. Not even the wild rollercoaster ride of the Nigerian music industry could deter him. With unwavering determination, 1da Banton fought tooth and nail, defying all the odds stacked against him, to reach the pinnacle of his career.
And what a pinnacle it is! He has achieved hit after hit, rubbing shoulders with the music industry's crème de la crème like Davido, Tiwa Savage, and Kizz Daniel. These collaborations have solidified his status as a force to be reckoned with, leaving fans and critics alike in awe of his musical prowess.
Fast forward to today, and 1da Banton has become a triple threat in the music scene. He not only performs like a superstar but also produces and writes his own music. Talk about a jack-of-all-trades! One of his standout tracks is the summer anthem of 2021, 'No Wahala.' This feel-good jam not only skyrocketed him into the mainstream spotlight but also proved that his years of hard work were not in vain.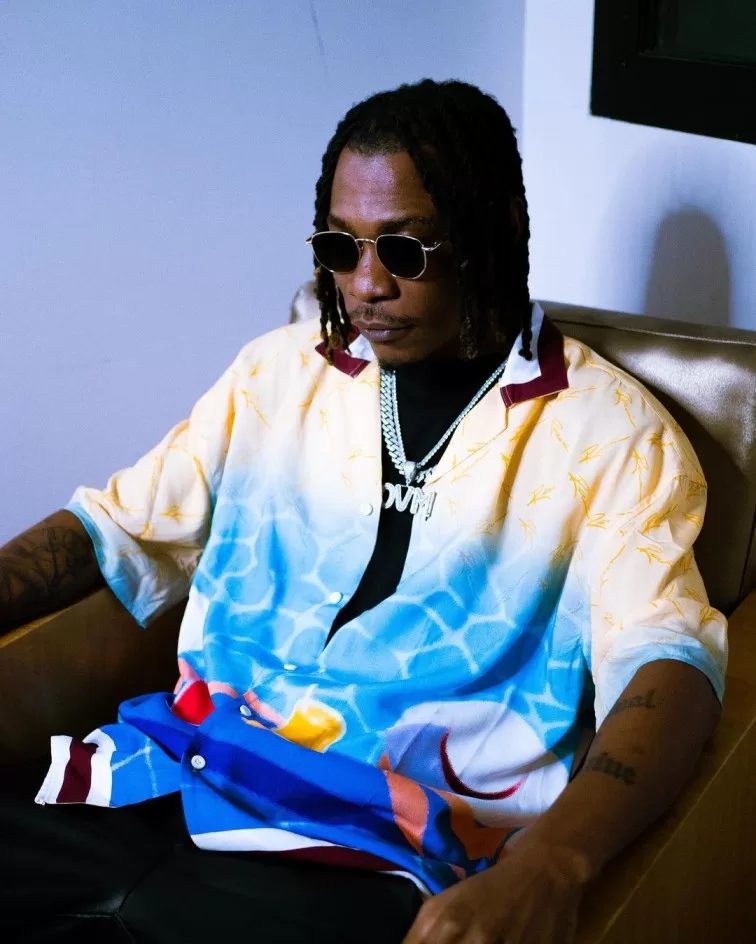 But the story doesn't end there. 'No Wahala' received a breath of fresh air with a sizzling remix in 2022, featuring the incredible talents of Kizz Daniel and Tiwa Savage. This explosive collaboration propelled 1da Banton to even greater heights, captivating new audiences and earning him a string of remarkable achievements.
In this exclusive interview, get ready to dive deep into the vibrant world of 1da Banton. He spills the beans on the stories behind some of his latest tracks, gives us a sneak peek into his artistic process, shares his undying love for football, and even hints at his upcoming album. So buckle up and join us on this exhilarating ride with one of pop culture's most electrifying sensations. Let's get the party started!
Where it started
1da Banton proudly hails from Port Harcourt, a city blessed with immaculate musical talents, home to mega superstars such as Burna Boy and Omah Lay. In this beautiful city blessed with great heritage, he spent his childhood years he says growing up in the city was fun, and if he had the privilege of a second life, he would still choose this place he calls home.
Contrary to the public opinion that PH is a rough place, it is a normal city. It is only rough when it needs to be rough and peaceful when it needs to be.

1da Banton, 2023.
1da Banton further talks about the dynamic character of Port Harcourt people highlighting and addressing the popular misconceptions that precede the city.
"Contrary to the public opinion that PH is a rough place, it is a normal city. It is only rough when it needs to be rough and peaceful when it needs to be. We obviously don't look for trouble but if someone is to step on our toes, we will definitely not have it," he said.
When questioned about his life before becoming famous, 1da Banton simply states that he was a normal guy who made music, performed at gigs, and released recordings. He went on to discuss the deliberateness that characterised his current position as a hit-maker, mentioning how he had dedicated countless hours to refining his songwriting and music production talents.
" I released my first single in 2015 and I have been on a steady track since, always trying to improve myself. I have invested a lot of time in my songwriting prowess and music production and thank God it's all paying off," he added.
No Wahala
There was a time when football was all 1da Banton knew. The singer had dreams of playing at the highest levels of the sport and becoming a megastar in the process. However, the unfortunate and untimely death of his mother changed this course.
While his mother was still alive, she was there to support his dreams, and her lending hand wasn't limited to emotional responses alone; she also invested financially in his football career by buying his first pair of soccer boots.
Ultimately, his Mother's demise took a toll on him, and this made his desire to play football fall apart. The singer however still maintains a love for the sport off the field, saying: "Yes I still watch football. My favourite team is Chelsea. I do not watch all the matches nor follow football like that but I do try my best to watch Chelsea matches with great opponents."
A precedent to a successful mainstream singing career is usually a hit record. Musicians are seldom taken seriously until having bagged a mainstream hit. 1da Banton's hit came in 2021 via the Afro-dancehall hit single 'No Wahala'. The song propelled 1da Banton to new heights in his musical career. 'No Wahala' became a popular sensation thanks to its relatable themes and offerings. On March 2, 2022, 1da Banton released an official studio remix version of 'No Wahala.'
To be honest Nobody knows a hit song until it becomes one.

1da Banton, 2023.
The new rendition featured popular Nigerian singers Kizz Daniel and Tiwa Savage. The collaboration proved to be a strategic success as it boosted the song's appeal thanks to the borrowed star power of Vado and the self-proclaimed African Bad Gyal. Like clockwork, 'No Wahala' became a global anthem of sorts, resonating well amongst music lovers at home and in the diaspora.
However, 1da Banton says that he never envisioned the song's success at the time of the recording.
"To be honest Nobody knows a hit song until it becomes one. I had no idea it would blow up. The song is basically me saying to take life easy. Normally, I read a lot. I take in information from time to time. I and my friends always make time to laugh, party and be happy no matter what we experience".
1da Shall Never End
1da Banton's latest extended play is titled '1da Shall Never End'– a six-minute lengthy body of work with zero features. The singer says his reason for riding solo was intentional, as he wanted his fans to have an inclusive feel into his art through the E.P. "I just wanted the fans to feel my music on this project. I worked with 255, a German producer group and artist who produced two tracks on the EP and mixed and mastered the entire project. They are family".
…wonder shall never end was like a caption of one of the pictures I took and a few of my fans were suggesting I make it the title of my next project.

1da Banton, 2023.
On account of how the project's punny title came about, 1da Banton says the title's choice was inspired by a moment of retrospection while he was enjoying the comfort of a luxurious automobile.
"I was sitting in a Lamborghini somewhere far away from Africa. I took a few pictures, then reflected on how far I have come and how far I am going. I was thankful to God and we are getting started. So wonder shall never end was like a caption of one of the pictures I took and a few of my fans were suggesting I make it the title of my next project."
On '1da Shall Never End', 1da Banton explored a lot of personal storytelling. On one of the project's singles, 'Omotola', he talks about a real-life disheartening experience. Narrating how a girl he really liked didn't like him back but was only using him for the money. 1da Banton further explains the motive behind another song on the E.P. titled 'No Love In Lagos'.
Present to y'all "1DA SHALL NEVER END" the EP out MAY 17th
Presave link on bio
Spread the word🤲🏿 pic.twitter.com/qqZBdLmCgx

— OVM (@1dabanton) May 1, 2023
"We were in Lagos. 255, I and a few others gisting about the city and comparing it to other cities we have been to. We really agreed we can find parties, drinks, and all of that good stuff in Lagos but not true love".
It is what it is
When asked about the work process behind his creativity, 1da Banton divulged, "With me it's random. I can start with the melody before the lyrics and vice versa. I can also start with a concept before melodies and lyrics and vice versa. It all depends".
1da Banton's random approach towards his music however differs from his systematic fashion apparel approach, he says he likes dressing in a comfortable fit, simple and fly, while still maintaining that it must be "Fresh".
1da Banton believes the world might be a much better place to live in if people shared compassion for each other, he further takes a realist stance as regards his life ethos, when asked about the one philosophy that he follows through life, he ostentatiously says, "It is what it is."
Biggest Lesson
1da Banton says his overall goal as a musician is geared towards the simple things of life. "Living a really happy life and making amazing music. I feel good when people tell me my song 'No Wahala' helped them survive depression. I want to make music that will inspire people and help them live happily", he says.
When asked about the biggest lesson he had learnt so far in his career, 1da Banton says he wished he took more risks earlier on in his career, citing his 2021 album 'Original Vibe Machine' as an example of a risk that he took that eventually paid off.
As the interview comes to a climax, 1da Banton says his next album is still in the works and very much in its developmental stage.
" I can't really say much about my next album for now, only that it's already taking shape, stem by stem. I am trying to put out an album so good that my fans and I would be proud of".