Nollywood, the Nigerian film industry, has undergone a remarkable transformation over the years. From its humble beginnings as a local phenomenon, Nollywood has now become a global force to be reckoned with, captivating audiences worldwide with its unique storytelling and cultural diversity. In recent years, the industry has experienced a significant shift in focus from traditional blockbusters to conquering the digital realm.
This article delves into the fascinating journey of Nollywood as it embraces the digital age, explores the history of Nollywood, highlights notable movies, directors, producers, and actors, and examines the industry's transition from local CDs and cinemas to the success of streaming platforms like Netflix Naija.
Nollywood emerged in the early 1990s, initially producing low-budget films distributed on VHS tapes, commonly referred to as CDs in Nigeria. These movies were known for their fast-paced narratives, dramatic storylines, and relatable themes that resonated with local audiences. However, it was not until the early 2000s that Nollywood began gaining international recognition for its prolific output and became the second-largest film industry in the world by the number of annual film productions, surpassing Hollywood.
Embracing the Digital Revolution
With the advent of streaming platforms, Nollywood swiftly recognized the potential to reach a global audience and expand its influence beyond Nigerian borders. Netflix Naija, the dedicated platform for Nigerian content, played a pivotal role in showcasing Nigerian movies to an international audience. This digital revolution allowed Nollywood to break free from the limitations of physical distribution, making its movies easily accessible to viewers around the world. Productions like 'Lionheart,' directed by the talented Genevieve Nnaji, and 'The Milkmaid,' directed by Desmond Ovbiagele, gained significant attention and opened doors for more Nigerian films on Netflix.
Furthermore, the availability of Nigerian movies on platforms like Netflix Naija not only introduced the global audience to Nollywood's diverse range of storytelling but also provided a platform for Nigerian actors and actresses to gain international recognition. Talented performers such as Genevieve Nnaji, Omotola Jalade-Ekeinde, Ramsey Nouah, and Rita Dominic have become household names beyond Nigerian shores, paving the way for more opportunities and collaborations with international actors and filmmakers.
Quality Productions and Diverse Storytelling
As Nollywood set its sights on dominating the digital age, the industry recognized the importance of producing high-quality content to captivate a wider audience. The shift in focus from quantity to quality has resulted in Nollywood movies that boast improved production values, enhanced cinematography, and refined storytelling techniques. Directors such as Biyi Bandele, known for his adaptation of Chimamanda Ngozi Adichie's novel 'Half of a Yellow Sun,' brought historical and socio-political narratives to the forefront, showcasing Nollywood's ability to tackle complex subjects and contribute to cultural conversations.
Another standout film that exemplifies Nollywood's prowess in storytelling is 'The Figurine,' directed by the acclaimed Kunle Afolayan. This supernatural thriller not only garnered critical acclaim but also showcased the industry's willingness to experiment with genres beyond traditional romantic comedies and melodramas. By pushing boundaries and exploring diverse genres, Nollywood has expanded its creative horizons and catered to the evolving preferences of audiences both within and outside Nigeria.
Tackling Social Issues and Cultural Relevance
Nollywood has always been deeply rooted in the socio-cultural fabric of Nigeria, and its movies reflect the country's diverse social landscape. The industry has consistently used its platform to address pressing social issues and shed light on the realities faced by Nigerians. Movies like 'October 1,' directed by Kunle Afolayan, explored the challenges encountered during Nigeria's transition to independence, delving into political intrigue and cultural tensions of the era. Through powerful storytelling, Nollywood provides a mirror to society, sparking conversations and encouraging positive change.
Additionally, Nollywood movies have tackled topics such as corruption, poverty, gender equality, and cultural identity. For instance, 'Dazzling Mirage,' directed by Tunde Kelani, raised awareness about sickle cell disease, challenging stigmatization and highlighting the experiences of individuals living with the condition. By incorporating social issues into their narratives, Nollywood movies go beyond mere entertainment, serving as a catalyst for social transformation and fostering a sense of cultural pride.
Collaboration and International Partnerships
To further amplify its global reach and increase production quality, Nollywood actively sought collaborations and partnerships with international production companies and distributors. These collaborations paved the way for co-productions, cross-cultural exchanges, and wider distribution networks. For example, 'The Wedding Party,' directed by Kemi Adetiba, became a groundbreaking romantic comedy that transcended borders and gained international acclaim. This movie, along with its sequel, showcased the industry's ability to create commercially successful and universally appealing films.
Furthermore, the partnership between EbonyLife Films, spearheaded by Mo Abudu, and Netflix resulted in successful collaborations like 'Chief Daddy,' directed by Niyi Akinmolayan. This strategic alliance not only provided a platform for Nigerian movies to reach a broader audience but also solidified Nollywood's position on the global stage. Such collaborations exemplify Nollywood's commitment to fostering international partnerships and solidifying its place in the digital age.
Conclusion
Nollywood's journey from local CDs and cinemas to dominating the digital age has been nothing short of remarkable. Embracing the digital revolution and seizing the opportunities offered by streaming platforms like Showmax, Amazon Prime, Netflix Naija, etc., Nollywood has expanded its global influence and gained international recognition. The industry's commitment to producing high-quality movies, diverse storytelling, and addressing social issues has captivated audiences both within and outside Nigeria. Furthermore, collaborations and partnerships with international production companies have opened doors to wider distribution networks and increased visibility for Nollywood movies on a global scale.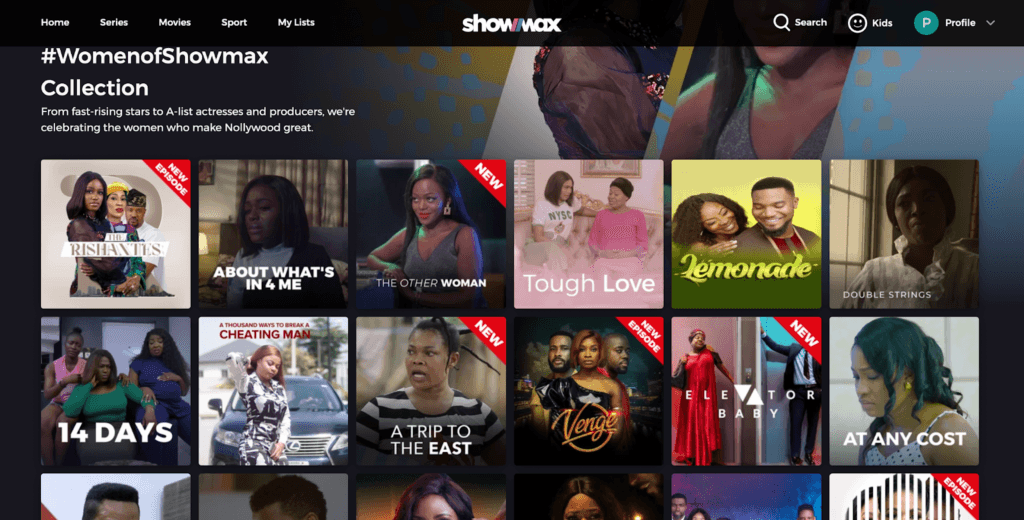 As Nollywood continues to evolve, nurture emerging talents, and adapt to new technologies, its future appears bright. With actors and actresses such as Funke Akindele, Ramsey Nouah, Genevieve Nnaji, and Omotola Jalade-Ekeinde gaining international acclaim, Nollywood is poised to maintain its dominance in the digital age. The availability of Nigerian movies on platforms like Netflix Naija ensures that audiences worldwide can now enjoy the rich cultural heritage and captivating narratives that Nollywood offers. Through the success of films like 'Lionheart,' 'Half of a Yellow Sun,' and 'The Wedding Party,' Nollywood has solidified its position as a global phenomenon, representing the vibrancy and talent of Nigerian cinema and captivating audiences worldwide.