Rwanda and Bayern Munich enter into a 5-year partnership p deal. Bayern Munich, the iconic German football club, has stepped onto the international stage in a groundbreaking move, as they unveiled a momentous five-year partnership with the African nation of Rwanda. The announcement, made amid fervent cheers during FC Bayern's inaugural home game of the season, marks the initiation of a dynamic collaboration focused on football development and tourism promotion.
In an inspired gesture of sports diplomacy, Bayern Munich will be teaming up with Rwanda's Ministry of Sports to establish a football academy aimed at fortifying the growth of football within the nation. This ambitious initiative underscores the club's dedication to nurturing the sport at a grassroots level and fostering emerging talent on the African continent.
The partnership's scope transcends the confines of the football field, as Visit Rwanda branding will adorn matchday LED boards at the illustrious Allianz Arena, a colossal 75,000-seat stadium that stands as an emblem of Bayern's prestige. Beyond the pitch, a medley of engaging activities will be orchestrated to showcase the breathtaking beauty and investment potential of Rwanda's burgeoning tourism sector.
Jan-Christian Dreesen, the astute Chief Executive Officer of FC Bayern, conveyed his delight, emphasising the strategic significance of this collaboration extending until the summer of 2028. Dreesen articulated the club's aspiration to play an active role in the African sports landscape, gleaning invaluable experiences along the way. This platinum partnership, he affirmed, harmonises seamlessly with Bayern's long-term objectives, encompassing the elevation of Rwanda's 'Visit Rwanda' campaign and a resolute commitment to nurturing the nation's youth through impactful football projects.
Andreas Jung, the Executive Board Member of Marketing at FC Bayern, echoed the sentiment, exuding enthusiasm for the partnership's innovative prospects. He unveiled plans to bolster the Rwandan Ministry of Sports in crafting youth football programmes, including the esteemed FC Bayern Youth Cup. Simultaneously, the club aims to amplify 'Visit Rwanda' as an alluring tourist destination, bridging sports and travel through this groundbreaking alliance.
Aurore Mimosa Munyangaju, the esteemed Rwandan Minister of Sports, radiated excitement about the collaborative venture. She championed the FC Bayern Academy as a potent platform for local coaches and players to glean expertise from the club's seasoned coaches, potentially catalysing Rwanda's ascendancy in football. Munyangaju hailed this partnership as an unparalleled opportunity for Rwandan youth, propelling them towards sporting excellence on a global scale.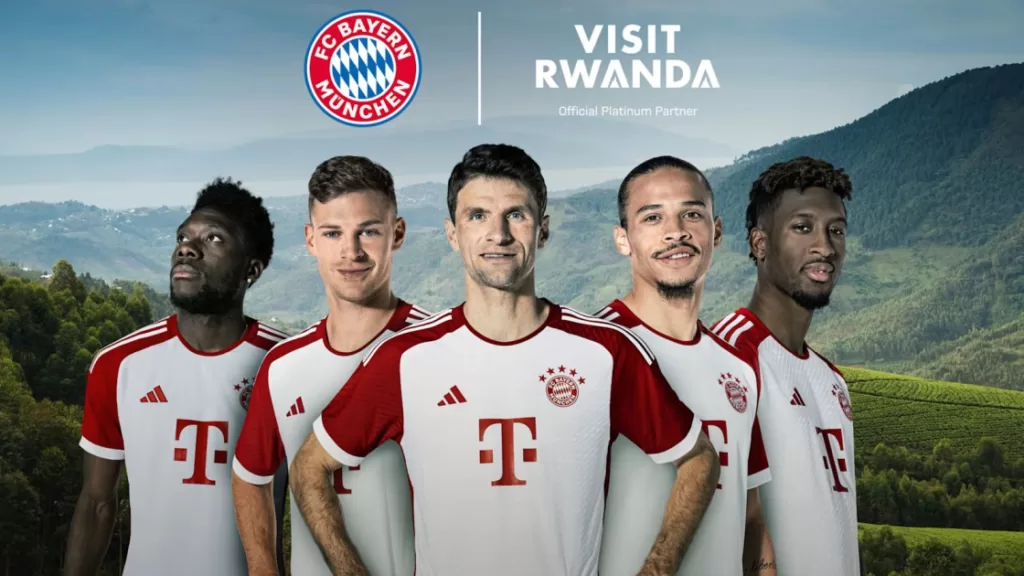 Clare Akamanzi, the dynamic CEO of the Rwanda Development Board, celebrated this strategic liaison as yet another milestone in Rwanda's meteoric ascent. She underscored the profound impact of Bayern Munich's involvement, as it dovetails seamlessly with Rwanda's visionary "Visit Rwanda" campaign, aimed at inviting a wave of global travellers to explore the country's splendours. Akamanzi articulated the partnership's resonance with Germany's status as one of Rwanda's top tourism source markets, foreseeing a symbiotic relationship that enhances tourism, investment prospects, and Rwanda's overall appeal.
This alliance also stands as a testament to the robust ties that exist between Germany and Rwanda. A history of collaboration spanning four decades between Rhineland-Palatinate and Rwanda underscores the depth of their relations. Beyond football and tourism, Germany's multifaceted engagement in Rwanda spans education, development, and commerce. The partnership between Bayern Munich and Rwanda amplifies these ties, enriching both nations through a shared pursuit of excellence and progress.