Streaming is quickly becoming the primary method of music consumption in Africa, offering listeners access to a massive collection of music from all over the world.
These streaming farms are well known for producing "bots," or computer programs that impersonate internet users. Because of their ability to mimic human subscribers, these bots are designed to perform human activities such as music streaming on a large scale.
With an obvious increase in the use of digital streaming platforms and the growing clout of the charting systems on these DSPs, there has been a rapid use of streaming farms as a marketing strategy in Africa, particularly Nigeria.
Recall that in 2022, Afrobeats musicians BNXN (aka Buju) and Ruger sparred on Twitter about who was the bigger star. In one of his posts, BNXN accused Ruger of racking up fake streams, which resulted in higher royalties and other benefits.
"There are streaming farms in Nigeria now. A room where your label bosses pay money to get your songs up by automation, no real fans, no real people, just a facade. Y'all make the people who really work for this bleed and your day is coming," BNXN said.
Many Nigerians will be hearing the term 'streaming farm' for the first time, whereas it has previously been a common term in the US, UK, and European markets.
What are streaming farms?
Streaming farms involve the use of several mobile devices, computers, or bots to increase the number of streams for a track on a streaming platform. Previously, there has been an increase in the use of streaming farms in advanced music industries for obvious reasons: they have a strong music streaming culture.
These farms first appeared on Spotify a few years ago, but they are now visible on other streaming platforms as well. Apple music farms continue to be the most popular in Nigeria, as artists, labels, and marketing agencies continue to use bots or illegal means to generate streams and create digital bubbles around a song.
This gives the release an advantage in terms of chart entries, increased exposure, or even bragging rights. However, it is considered fraudulent and can result in account suspensions, music removal from streaming platforms, or legal action.
Music streaming farms are services designed to illegally increase the number of times a song is listened to by using software Bots or a large number of phones. They are similar to the underground music scene.
They create listening bots that can stream music up to 1,000 times per minute, giving an artist or band a count of more than 10,000 fictitious streams of their song in less than ten minutes. As a result, the number of times a song is streamed increases significantly.
Why are artists using streaming farms in Nigeria?
Artists are using streaming farms in Nigeria for the following;
1. Stay Ahead Of The Competition: With the growing importance of streaming metrics for an artist's success in the music industry, some musicians and record labels may be motivated to exaggerate their streaming figures in order to attain chart success, acquire more visibility, or draw the attention of labels or fans. Competition is also a significant factor in this instance, with everyone striving for more number one records or staying at the top of the charts for months.
2. Increase Revenue; Furthermore, streaming services compensate artists and labels based on the amount of streams received by their music. As a result, a rise in streaming numbers may result in a bigger reward. Artists and labels may welcome the use of streaming farms to increase their revenue. As a Nigerian man would say "Who no like better thing?"
3. Fear of missing out (FOMO); In an industry where many players are faking their way to the top of the charts, it is critical for everyone to join them in order to not be left out. This is the current state of affairs in the industry. Artists who have publicly condemned the use of streaming farms are reportedly leading its use at the moment, most likely because they believe in the adage "if you can't beat them, join them."
Are streaming farms used by record labels?
We've recently seen major Nigerian and international record labels use streaming farms to propel their artists' singles to the top of the charts. While this helps to expose the artist's releases, it also has an impact on his brand, especially if the use of these streaming farms is obvious enough for industry stakeholders to notice.
In the Nigerian music industry, artists or their teams deploy a streaming farm on a daily basis. Most of the time, these artists are unaware of what their marketing teams are doing to move their songs up the charts. They eventually notice their position on the charts and end up bragging about it without knowing how they did it.
Effects of the use of streaming farms in Nigerian music industry
From a different angle, the rising demand suggests that there may be a chance for market equilibrium. Though competition can be helpful as the Nigerian music industry continues to mature, the use of these streaming farms might not be the best way to go about it. It could be right to say that the negative effects of the excessive use of these farms can wound the industry.
It will be disastrous, for example, if artists with little clout dominate the Turntable Charts after dominating the charts on Apple Music, Spotify, Audiomack Boomplay, and other digital streaming platforms. This will undoubtedly undermine the credibility of these charts, harming their reputation.
Furthermore, artists with no brand equity or accountable fan base can fake their way into receiving hundreds of thousands of dollars in advance for future releases by faking their streams.
This further disrupts the industry and has the potential to cripple these major labels, whose investments will almost certainly be recouped. If not checked, any major label may find it difficult to take similar risks.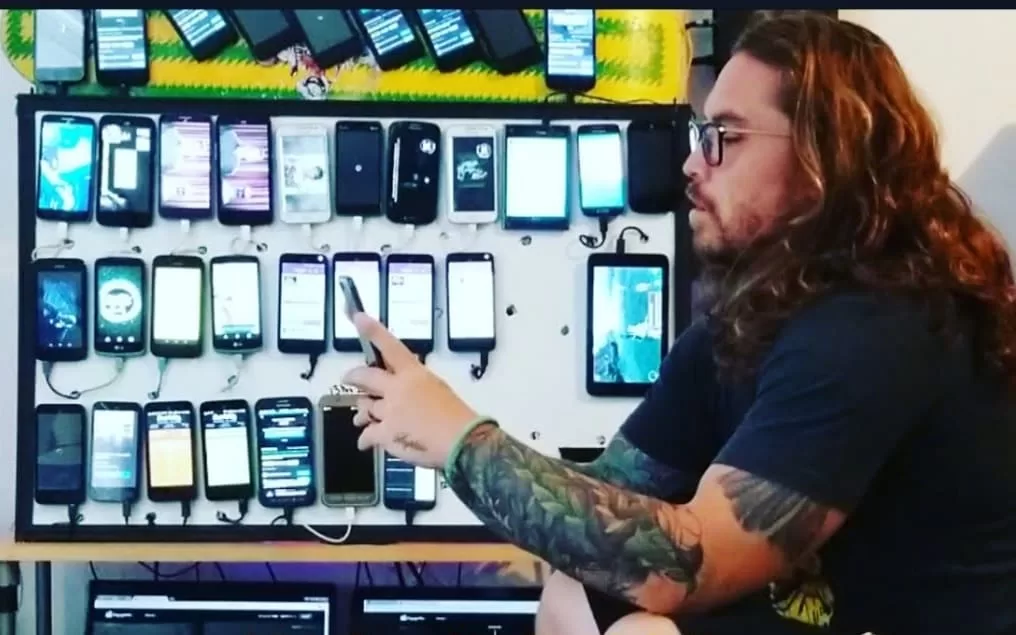 Who are the owners of these streaming farms?
In all honesty, these guys are ghosts, as expected given that these farms are illegal and violate the terms of service on these platforms. We have seen these streaming platforms remove songs with clear use of streaming farms numerous times as they continue to track down this abusive use of the platforms. So putting faces or names to these farmers may be difficult.
However, streaming farms have come to be a pretty good business idea and are somewhat simpler to put up given their access to funds and technology, so investors will constantly want to level the playing field. I mean, who wouldn't want to be compensated for continuously playing music?
Regardless, the implementation of streaming farms is a short-term solution with long-term benefits or drawbacks. Meanwhile, in order to ensure a sustainable and vibrant future for music, it is critical to promote fair play, transparency, and ethical behavior.