For Kelvin Ibinabo Oriye, better known as Kaestyle, life, as he had known it, transcended the moment he scribed his initials on a piece of paper. In the final quarter of 2020, Kaestyle's reality would change forever, and the transport of this change would be a musical recording contract with one of the emerging but relatively successful record labels in West Africa, Nigeria—KeyQaad Records.
What the record deal meant for Kaestyle was that his promising but stifled musical career now had the concrete backing to fulfill its true potential, and all the right omens were present. For one, his new label was home to Omah Lay, an artist whose prominence had spread like wildfire that same year; and for the other, KeyQaad's Chief Executive Officer was an industrious entrepreneur and music executive, named Valentine 'Valo' Ogaji; the latter had been able to bookmark a powerful list of industry-based networks thanks to his earlier endeavors as airplay personnel and media juggernaut. Ultimately, Kaestyle was in great hands.
In this interview, the Port-Harcourt-bred vocalist touches on varying subjects ranging from his views about industry norms to his artistic journey to his debut body of work, and ultimately, an expectant future.
No Policing in KeyQaad
Occasionally, Kaestyle's music is saturated with explicit lyrical content, but the fast-rising singer says he first experienced music in church—a cliche. Also, like most, he claims he had quite an adventurous childhood, or, as he terms it, a "calm and chaotic" one. Kaestyle says he had to inter-switch states a lot while growing up, so while one half of his childhood was serene, the other was 'chaotic,' but he assures that the chaos he speaks of isn't grotesque, only that it was occasionally overwhelming and 'wild.'
In late October 2021, various media houses began championing Kaestyle, announcing his record deal with KeyQaad; an exciting signing which had been brewing in the background since 2020. The press release immediately followed up with a debut track titled 'Stamina.' a sensual rhythm and blues-tinged record.
I am dropping a full-length project this year.

Kaestyle, 2023.
For Kaestyle, things were getting in motion, but only two years ago, the singer was an independent music act; just an average, gifted Joe expressing his craft to a handful of audiences before the deal came through, and he recounts, saying, "So, I was already sort of making a name for myself back home in Port-Harcourt in my little way, I wasn't even looking to get signed, nor was I singing for clout, I was just dropping freestyle videos online and building a loyal following too when it happened. Eventually, someone from the label saw one of my videos online and reached out to me."
Being an independent music act has its pros and cons, one of which is creative freedom; a right not often enjoyed by counterparts who are signed to big labels with big budgets. Many times, these artists tell stories of the difficulties of being on a record label, one of which is the pressure to compromise their art for something the label deems more commercial and mainstream. Kaestyle says his fortune has been kind to him, as he doesn't share in this predicament.
No, not with my current label. I have the liberty to create art without any form of creative policing.
The City of Dreams
In his own right, Kaestyle is a remarkable vocalist and lyricist, which makes him a big deal and a juicy addition to the label imprint, but when it comes to being the label's poster boy, the lion's share undoubtedly belongs to another Port Harcourt talent, Stanley Didia, popularly known as Omah Lay.
Omah Lay is currently one of the most successful and decorated new generation acts from Nigeria, and naturally, having such an act as a labelmate comes with a high ladder of expectations.
The quality of talent in Port Harcourt is sublime and very rich. What you see now is a manifestation of the inevitable.

Kaestyle, 2023.
However, Kaestyle maintains optimism, saying his labelmate's status inspires him as opposed to the pressure to perform.
"Being on the same label with a talent like Omah is a huge deal, but I don't feel pressured, nor do I succumb to any of the jargon. If at all, I feel inspired by Omah, like I feed off his energy in a positive way. It's a constant reminder that I am in the right place, and I have earned it".
When asked to account for his thoughts about the sporadic growth of the Nigerian music industry, especially when it pertained to the influx of foreign investors, the metrics being whether the influx represented a good move for the Afrobeats Culture, or was a subtle form of cultural colonization, the singer spared no detail:
"If I am keeping it a buck, yeah, I think it goes both ways. It depends on the path you choose to focus on because, like it or not there are always going to be people doing it for personal gain, seeking malicious intent, and trying to colonize the Afrobeats sound. It's human nature, and its been that way since the beginning of time, you know, it is what it is. I choose to focus on the exposure that comes with it, you know. Yes, it's a good thing that foreign investors are bringing all that money into the game, it's a win-win situation for everybody".
Port Harcourt City, the capital and biggest terrain of Rivers State, Nigeria, is a gift that keeps on giving in the Nigerian music industry, the city is blessed with loads of wonderful talents and it's quickly looking like a gold mine. Kaestyle believes the city is where dreams are made, firmly iterating that its heritage is blessed.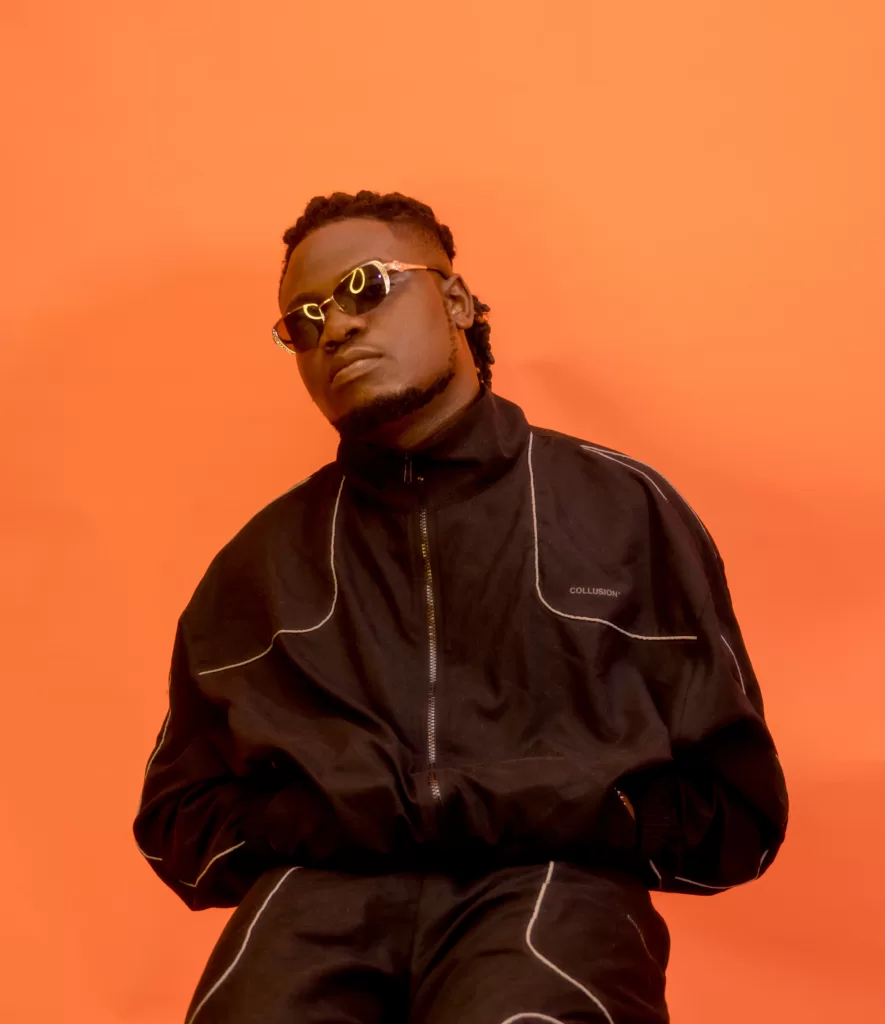 "Port-Harcourt has a great heritage, we have been making good music for years, and we have so many legends, so many local heroes who were killing it before the Country started paying attention to talents from here. While growing up, there were so many amazing artists from PH that weren't fortunate enough to be mainstream, while some were lucky enough to taste fame. The quality of talent in Port Harcourt is sublime and very rich. What you see now is a manifestation of the inevitable".
Being on the same label with a talent like Omah is a huge deal, but I don't feel pressured…

Kaestyle, 2023.
Kae's Study
Kaestyle knows what it's like to be an unsigned artist, and he knows what it means to be a signed music act. Contrary to popular belief, Kaestyle says signed music acts are required to work just as hard as unsigned music acts, regardless of the financial edge.
"I understand why people would think like that. The music industry is a very competitive one, and it's a lot tougher for an unsigned act without the kind of heavy budget that comes with big labels, nevertheless, it doesn't mean it's a broad road for signed artists, Yes, signed artists might have the financial edge but If I am being honest, I think sometimes it's the opposite, at least I can speak for myself. The hustle doesn't decline just because you get signed, a smart signed artist would know a record deal means going harder on your grind'.
Albeit via a humorous tweet, Kaestyle reveals the kind of important steps he has undertaken to find clarity and focus in his musical career. In the tweet, he talks about a phase in his life where he had to restrict access by taking time to restrict access to some of his feminine contacts who had overstayed their essence in his life and were now more of a distraction than a necessary vice. 
He says; "It was a crucial decision, I just felt at that time, it was what I needed. My focus was lapsing and I was beginning to misplace my priorities, so I had to block my distractions, literally".
And the sacrifice paid off, because in 2022, Kaestyle would drop his debut extended play titled 'Kae's Study'. The project was critically acclaimed, and according to Kaestyle, it was a collection of emotions—an Afro-fusion project that brought his Rhythm and Blues affinities to life. The five-track project featured Victony and labelmate Omah Lay and has earned thousands of music streams.
2023 is the Kae Year
Finally, when asked what powerful collaborations to expect from the singer this year, referencing his recent collabs with formidable acts, Kaestyle retorts by saying he has bigger plans for the year. The singer confirmed for the first time his plans to drop an album in 2023, saying, "I am dropping a full-length project this year."